I've received a number of responses to yesterdays's post, 5 things I've learned in 8 weeks of sustainability conferences, ranging from incredulous to disagreeing, about some challenging statements I made comparing fossil fuel profits with subsidies, and clean energy investment with fossil and nuclear investment.
I'll post additional clarifications, references (and if necessary corrections) shortly—probably tomorrow.
Thanks for your patience—and your interest!
Beyond
"sustainability."
It needs to be about more than minimizing the damage that modern society inflicts on the living systems that sustain it. And certainly more than minimizing the damage "only if we can afford to," or "only as much as we can afford to."
Though even that can be profitable. The ecoefficiency initiatives that characterized early sustainability efforts delivered nearly half a billion dollars to Interface's bottom line 1996-2012—contributing more than a third its total operating income in that period (and probably kept the company alive during the 2001-2 real estate downturn, according to its late CEO Ray Anderson).
Growing top line revenue makes a much more interesting story to most companies than trimming expenses, even as dramatically as Interface has done. After Natural Logic helped Levi Strauss & Co build its sustainability strategy a few years ago, Levi's® took its learnings to market. In a big way. Guided by lifecycle assessments that pegged the biggest shares of footprint for a pair of blue jeans to growing cotton and laundering the jeans—both activities outside its direct control—the company took responsibility and took two bold steps (among many others):
changing the garment care tag to recommend cold water wash, generating substantive energy savings at zero incremental cost (Hey, CFOs: what's the ROI of that? Or of "zero net" buildings delivered at no incremental cost?);
launching Water<Less™ products that "reduce water in the finishing process by 'up to 96%'" (And with more than 13 million Water<Less™ products in the Spring 2012 collection, supported by an international customer-facing campaign, that added some attention-getting revenue to the company's financials.)
In fact nearly half of the 2600 respondents to the latest Sloan/BCG sustainability survey say they've "changed their business models as a result of sustainability opportunities," and more than one-third reported profit from their sustainability initiatives.
Where can companies find those opportunities?
We've learned, in our work with Natural Logic's clients, that the real opportunity lives in deep innovation at the constellation of profit, brand, risk —and purpose. Taken together, in their interactions and interdependencies, this constellation opens the door to a new level of business value in service of societal and environmental impact.
In fact many of the 29 companies that participated in WBCSD's Vision 2050 project ("a new agenda for business laying out a pathway to a world in which nine billion people can live well, and within the planet's resources, by mid-century") found that what the world really needs—and what they know how to do—and perhaps is what they're really here to do.
And yet… while 49% of CFOs (in a recent Deloitte study) saw a significant link between sustainability performance and financial performance, "only 39% feel that it is 'very' important to communicate the value of sustainability to their employees."
To be continued…
Be sure to think this day (every day?) about what you are thankful for. And who you are thankful for. And be sure to tell them.
Let me start: I'm thankful for you – friends, family, colleagues, coaches, mentors, teachers, guides, clients and readers. Dancers and party animals. Chefs and dinner partners. Poets and pundits (well, poets).
For the blaze of sunlight, and the web of life that coils sunlight into flowers and slugs, peacocks and lions, sharks and ants and symphonies.
For acceptance. And resistance. And compassion.
For obstacles. For abundant possibility.
For the infinite mystery at the heart of all being.
For my breath this day.
For the one breath. Of all life. Every day.
[This post is by far the most liked & shared thing I've ever posted on Facebook. I'm happy to share it with you too. ]
One of my personal idiosyncrasies that that I prefer to actually read ballot initiatives for myself, rather than depend on the summaries and positions of either proponents or opponents. Oh, and that I tend not to like poorly drawn initiatives, even for causes I support.
I've finally read Prop 37 (California's genetically engineered food labeling initiative), which has been criticized by its opponents as being poorly drawn (among other things). I've got absolutely no problem with how the initiative is written, and support it fully. I hope you will too. Let's ensure our right to know what we put in our bodies.
"Simply the best green business book on the market."
—Alex Steffen, Editor, Worldchanging.com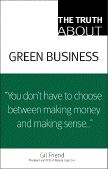 The Truth About Green Business