[This article was first posted at GreenBiz.com February 8, 2018.]
It's pitch dark. There's no moon. You can't find your map. The ground shifts beneath your feet. You grope tentatively to detect sure footing, or the edge of a precipice.
Welcome to the Anthropocene. Now that you're here, how will you navigate a landscape with no maps and with endlessly shifting features? Climate weirding. Head-spinning business and technology disruption. Disorienting and disturbing political turmoil. Culture wars. And the most unstable geopolitical situation since the heart of the Cold War. Or, in other words, "There be dragons here!"
If you haven't heard the term yet, you will. The Anthropocene, Wikipedia tells us, "is a proposed epoch dating from the commencement of significant human impact on the Earth's geology and ecosystems, including, but not limited to, anthropogenic climate change."
The term evokes the rising human impact of biodiversity, species extinction, the health of Earth's ocean and, of course, the challenge of climate change — not just on human well-being, but also on the living systems that undergird the human economy and all we hold dear.
What characterizes the Anthropocene — in addition to foreboding, despair and denial — is the unparalleled uncertainty of the landscape we will traverse this century. How much change? How fast? Exactly when and where? Planners, executives and investors want answers, but while the trends and directions are increasingly clear, the specifics are not.
In the face of this uncertainty come deep challenges — to enterprises, governments and just plain folk — of making plans and moves when the normal maps and guideposts no longer work. Traditional modes of extrapolative planning, which depend on projecting past trends into the future, inevitably fail. Normative planning — reverse-engineering the future from aspirations (as NASA did in developing the Apollo mission) — becomes essential, even though most institutions have little experience and little comfort with it.
A dozen years ago I wrote with Chauncey Bell, a master of business design, that "business is on a collision course with a set of global shifts that almost no one has adequately prepared for. These inevitable surprises (in futurist Peter Schwartz's words) are coming fast. For those who are ready, these shifts will be platforms for change. For those who are not ready, they are traps."
Some address this challenge by trying to bring "futures thinking" and forecasting skills into business leadership and initiatives. Futures thinking is at the heart of invitation — the ability to tolerate and even embrace uncertainty, and discern pattern in it; to imagine, accept and drive discontinuous change; to formulate compelling and sometimes unreasonable visions and develop strategies that can fulfill them.
But a focus on "forecasting skills" can be a trap of another sort. While it's essential to imagine and explore possible futures (through scenario-planning and other processes) and often useful to calibrate those possible futures (with projections and simulations), it can be a fool's errand to think we can forecast the future, any more than to think we can time the market. The past 10 years, 10 months, 10 weeks and 10 days should make that clear.
Yet it is possible to develop the appetite, ability and even serenity to navigate, anticipate and respond to — and perhaps even steer — the waves of change and tumult likely to characterize the rest of this century.
How? By cultivating new mindsets as a fundamental underpinning to deploying new tools. By developing a shared, principle-based understanding of the 3.8 billion years of open-source R&D that nature has gifted to us, and by learning to use the orienting compass it provides. By nurturing conversations that open possibility, forge commitment, ensure accountability and replace resignation with resolve. By providing a clear line of sight that connects purpose, goals, actions and impacts for every member of your organization, value chain and communities of interest, so everyone can see the impacts of their actions — including your CFO.
Why? To enable diverse teams to work with that magical balance of what cyberneticist Allenna Leonard has called "autonomy in a coherent whole." And to include not just the "rear-view mirror" metrics of CSR and ESG reporting, but also the "radar" metrics that could disclose potential disruption and could identify disruptions to your metrics. (Blockchain, anyone?)
My wife and thought partner cautions that this may read as just some guy's opinions. In fact, they are observations grounded in 45 years of observation, and in the unforgiving laboratory of close work with some of the most world's most successful and innovative companies.
I'll end this opening foray with a provocation, an invitation and a promise.
The provocation: Since the biggest competitive advantage this century will belong to those able to see through the fog, and to see the reefs and clear channels that the fog obscures for their competitors, how will you nurture your organization's capacity to navigate the Anthropocene?
The invitation: Join me over the coming months for a grounded, pragmatic conversation together to explore this landscape.
The promise: Together we will discern the landmarks and milestones, find the ways of wayfaring, sketch the maps that you currently lack and chart a course for you to put these insights to work in support of purpose-driven impact.
[This article was first posted at SustainableBrands.com Dec 17, 2017.]
We've come a long way since the first New Metrics conference seven years ago.
Back then, much of our focus was stuff — resource efficiency and the physical "metabolism" of our organizations; now, we focus more and more on value. Back then, we were very concerned with reporting; now, we're increasingly concerned with how reporting contributes to strategic insight. Back then, we focused on the metrics of the tangible — the stocks and flows or both physical resources and traditional financial reports; now, we recognize the large and still rising value of the intangibles — from climate risks to human happiness. Back then, we were working to think about natural capital alongside financial capital; now, we're working to bring five capitals into the management equation. Back then, we were focused on the numbers themselves; now, we're beginning to understand the critical importance of context and the power of science-based goals. Back then, our conversation was on the fringes of the business world; now, it's moved much closer to the heart of the mainstream.
But even the old is new again, as "traditional" metabolic metrics provide a foundation for value leakage discovery, which builds internal and external engagement, which fuels business and service model innovation. This has been a powerful center point of recent Natural Logic engagements — unlocking, in the words of one client, "massive" unseen business value that was literally invisible in standard management and financial reports. In other words, the new metrics disclosed value to which the old metrics were literally blind (see "10 Things You Need To Know About Your Value Stream").
That's not the only way we're blind. Permit me to share a conversation that was eye-opening for me. About 15 years ago, I spoke with the CSO of a very large global manufacturing company, which had just released its first CSR report. The CSO was proud of this accomplishment, and was a little taken aback when I asked, "How will you use this report to help your people make better decisions, and manage the company better?"
"Well," she responded, "we print several thousand copies" (uh-oh), "and distribute them to all our managers. They keep them on their desks (this is not going to end well, I thought), and when they get a relevant question, they can look up the answer in the CSR report."
"Yikes," I thought. "That's not management at all, and certainly not better decision-making" (as I contemplated shorting their stock). And it certainly misses the opportunities that appropriate metrics, appropriately deployed, can open.
So, let me ask you the same question: How do you use your sustainability metrics and reports — as a rearview mirror displaying past performance, or as a radar system illuminating the path ahead? As a box you need to check, or as a tool to help your people and partners be smarter?
JM Juran (who, along with W Edwards Demming, was one of the founders of Total Quality Management) approached this question with great lucidity nearly 70 years ago, when he observed that "To be in a state of self-control, a person should be provided with knowledge about what he [sic]… is supposed to do, what he is actually doing, and what choices he has to improve results wherever necessary. … If any of these three conditions [is] not met, a person cannot be held responsible."
I've polled audiences on these questions at nearly every opportunity over the past two decades, and I'm dismayed at the responses. Typically, barely five percent of people say that their company has all three. How can you manage an organization effectively and hold your people accountable in an organization that fails to provide these fundamental conditions (it polled at 30 percent at New Metrics '17 — great progress but still woefully inadequate)?
New metrics — properly contexted, deployed and used — can provide an opening to this dilemma. They can help organizations use sustainability reporting not merely as historical records but as tools of discovery, to help people be, think and act smarter — to cut waste, operate more efficiently, see pattern and disclose value, share insights and unlock opportunity.
And they can serve as a modern-day council fire. Think about it: For as long as we've been human, we've commonly gathered together in a circle at the end of the day, often around a fire, and shared the stories of the day, the imagined or hoped-for stories of the next day, and the other stories that would arise as we'd watch the dancing flames. I've observed the same pattern, as teams gather around the cool fire of a computer screen, gaze into charts displaying trends, ratios and context, and discover stories — and value, and hidden opportunity — in the patterns of the data, and share those stories as a way to open new futures.
My mentor, Fernando Flores (former Chilean minister and senator, businessman, writer, provocateur), has observed that we humans are strange monkeys — ones that have conversations, declare concerns, invent futures. And ones that freak out, duck responsibility and slip into resignation. But something else is possible, if we can enter into a different sort of conversation together.
So, the challenges of New Metrics go beyond the metrics themselves. Here are several:
Consider context: Metrics not as numbers, but as numbers in relation to other numbers and other concerns. This gets to the heart of a human economy coupled with nature's economy, tied together through reality-based accounting — what Jahn Ballard calls "G!d's balance sheet."
Include externalities: Our accounting systems are blind to these explicit impacts of our value chain on both the regenerative capacity of earth's ecosystems to sustain our economy, and on us (Trucost has determined that most major companies would not be profitable if they had to bear the true costs of their activities. How exposed is your company?).
Stop (or at least see and shift) subsidies. Include the exposure of your business to explicit & implicit subsidies (explicit, as in tax credits and transfer payments; implicit, as in unpriced externalities.).
Get the prices right. Markets may be a better way to allocate resources, but as Adam Smith once observed, perfect markets depend on perfect information. Markets can't work well with the market-distorting lies of unpriced externalities.
Open everything. Resist the automatic temptation to play your cards — whether IP or performance data — close to the vest, since the value of shared learning can dwarf the value of control.
Include everyone. Since none of us is a smart as all of us.
Find pattern without resorting to the easy escape of mechanistic reductionism — obsessing on things rather than systems — in a complex, interconnected and emergent work.
Embrace and navigate uncertainty (which, if you haven't noticed, will be a central feature of the rest of our lives), and nurture emergence.
Ground that uncertainty in the stable science that underlies all we value and do (we've found The Natural Step framework an unusually powerful tool for getting everyone in an organization aligned around consensus science, shared commitments, big goals and systematic action.).
For the sake of what? Why does this matter? In order to:
Nurture our capacity to "navigate the anthropocene." The biggest competitive advantage this century will belong to those able to see through the fog, see the reefs and clear channels that the fog obscures for the competitor.
Provide a clear line of sight that connects purpose, goals, actions, impacts for every member of your organization, your value chain and your communities of interest, so everyone can see the impacts of their actions…including CFOs.
Enable the self-control that Juran identified 70 years ago.
Enable diverse teams to work with that magical balance of what Allenna Leonard has called "autonomy in a coherent whole."
Include the metrics that could disclose disruption, and identify disruptions that could disrupt your metrics (Blockchain, anyone?).
There's one more challenge — one that can't be measured: Courage. Literally (or at least etymologically), "strength of heart" (I and other capable sustainability coaches and advisors can help you with many things; this is one you'll have to bring forward on your own!).
Finally, let me leave you with this guidance from William Bruce Cameron, who challenges us to remember, when thinking about metrics, that "not everything that can be counted counts, and not everything that counts can be counted."
I've received a number of responses to yesterdays's post, 5 things I've learned in 8 weeks of sustainability conferences, ranging from incredulous to disagreeing, about some challenging statements I made comparing fossil fuel profits with subsidies, and clean energy investment with fossil and nuclear investment.
I'll post additional clarifications, references (and if necessary corrections) shortly—probably tomorrow.
Thanks for your patience—and your interest!
Beyond
"sustainability."
It needs to be about more than minimizing the damage that modern society inflicts on the living systems that sustain it. And certainly more than minimizing the damage "only if we can afford to," or "only as much as we can afford to."
Though even that can be profitable. The ecoefficiency initiatives that characterized early sustainability efforts delivered nearly half a billion dollars to Interface's bottom line 1996-2012—contributing more than a third its total operating income in that period (and probably kept the company alive during the 2001-2 real estate downturn, according to its late CEO Ray Anderson).
Growing top line revenue makes a much more interesting story to most companies than trimming expenses, even as dramatically as Interface has done. After Natural Logic helped Levi Strauss & Co build its sustainability strategy a few years ago, Levi's® took its learnings to market. In a big way. Guided by lifecycle assessments that pegged the biggest shares of footprint for a pair of blue jeans to growing cotton and laundering the jeans—both activities outside its direct control—the company took responsibility and took two bold steps (among many others):
changing the garment care tag to recommend cold water wash, generating substantive energy savings at zero incremental cost (Hey, CFOs: what's the ROI of that? Or of "zero net" buildings delivered at no incremental cost?);
launching Water<Less™ products that "reduce water in the finishing process by 'up to 96%'" (And with more than 13 million Water<Less™ products in the Spring 2012 collection, supported by an international customer-facing campaign, that added some attention-getting revenue to the company's financials.)
In fact nearly half of the 2600 respondents to the latest Sloan/BCG sustainability survey say they've "changed their business models as a result of sustainability opportunities," and more than one-third reported profit from their sustainability initiatives.
Where can companies find those opportunities?
We've learned, in our work with Natural Logic's clients, that the real opportunity lives in deep innovation at the constellation of profit, brand, risk —and purpose. Taken together, in their interactions and interdependencies, this constellation opens the door to a new level of business value in service of societal and environmental impact.
In fact many of the 29 companies that participated in WBCSD's Vision 2050 project ("a new agenda for business laying out a pathway to a world in which nine billion people can live well, and within the planet's resources, by mid-century") found that what the world really needs—and what they know how to do—and perhaps is what they're really here to do.
And yet… while 49% of CFOs (in a recent Deloitte study) saw a significant link between sustainability performance and financial performance, "only 39% feel that it is 'very' important to communicate the value of sustainability to their employees."
To be continued…
Be sure to think this day (every day?) about what you are thankful for. And who you are thankful for. And be sure to tell them.
Let me start: I'm thankful for you – friends, family, colleagues, coaches, mentors, teachers, guides, clients and readers. Dancers and party animals. Chefs and dinner partners. Poets and pundits (well, poets).
For the blaze of sunlight, and the web of life that coils sunlight into flowers and slugs, peacocks and lions, sharks and ants and symphonies.
For acceptance. And resistance. And compassion.
For obstacles. For abundant possibility.
For the infinite mystery at the heart of all being.
For my breath this day.
For the one breath. Of all life. Every day.
[This post is by far the most liked & shared thing I've ever posted on Facebook. I'm happy to share it with you too. ]
One of my personal idiosyncrasies that that I prefer to actually read ballot initiatives for myself, rather than depend on the summaries and positions of either proponents or opponents. Oh, and that I tend not to like poorly drawn initiatives, even for causes I support.
I've finally read Prop 37 (California's genetically engineered food labeling initiative), which has been criticized by its opponents as being poorly drawn (among other things). I've got absolutely no problem with how the initiative is written, and support it fully. I hope you will too. Let's ensure our right to know what we put in our bodies.
"Simply the best green business book on the market."
—Alex Steffen, Editor, Worldchanging.com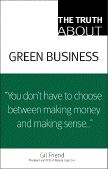 The Truth About Green Business