Featured Video Clip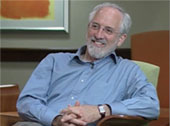 Sustainability Tipping Point
Interview with Gil Friend.

3.6MB Quicktime

228K PDF
We are here to build, as Buckminster Fuller put it:
a world that works for 100% of humanity,
in the shortest possible time,
through spontaneous cooperation,
without ecological offense,
or the disadvantage of anyone.
We apply the lessons of nature's evolutionary playbook to the human economy. As Natural Logic CEO Gil Friend observed in 1993:
Nature's ecosystems have 3.85 billion years of experience in creating efficient, adaptive, resilient, sustainable systems. Why reinvent the wheel, when the R&D has already been done?
We turn this research and development towards identifying and guiding strategy, information services and design to build profit, competitive advantage and quality of life through exceptional environmental performance.
Our work expresses our commitment to:
the well being of the living systems that ultimately sustain the human economy, and
the well being of economic and ecological systems, of both humans and other living things.
We are confident that these goals are compatible. Where they seem to be incompatible, we are committed to inventing – together with our clients – the better ways to do business that make them compatible.